October 1, 2023; In a deeply concerning turn of events, six civilians, including two minor girls, were abducted between Kangvai and Molhoi Village in Manipur while en route to Lamka town at approximately 8:45 am today. The abduction has ignited outrage and condemnation from various quarters, with many expressing their concern and solidarity with the victims' families.
The abducted individuals have been identified as follows:
Seimalsom @ Boisom Haokip (President, KSO, Leimata Block)
Paominlun Haokip (Secretary, KSO, Leimata Block)
Lhingneichong Haokip
Tinneilhing
Name withheld (11 years old)
Name withheld (9 years old)
The Joint Students' Body (JSB), Lamka, has taken a strong stance against the abduction, condemning it in the strongest terms. They expressed particular concern about the abduction of minors and the fact that one woman was picked up by a CBI team without the presence of female police personnel. JSB declared that any such instances would be strongly opposed in the future.
Furthermore, JSB strongly criticized the inhumane act of transporting innocent children along with those arrested. They announced that in the future, anyone found carrying arms and moving around in plain clothes would be stopped and appropriate action taken against them. The general public was also urged to be vigilant and report any suspicious individuals behaving inappropriately.
The JSB raised serious concerns about the selective targeting of Kuki-Zomi-Mizo people in investigations, particularly by central agencies. They voiced their opposition to the biased selection of police cases involving their community while numerous cases of heinous crimes against their people remained ignored.
The organization expressed alarm over a Facebook post by the Chief Minister, which claimed that some culprits in a murder case had been apprehended before the case had been solved. They viewed this as a potential indication of a nexus between certain central agencies and the state government, influenced by political pressure and manipulation.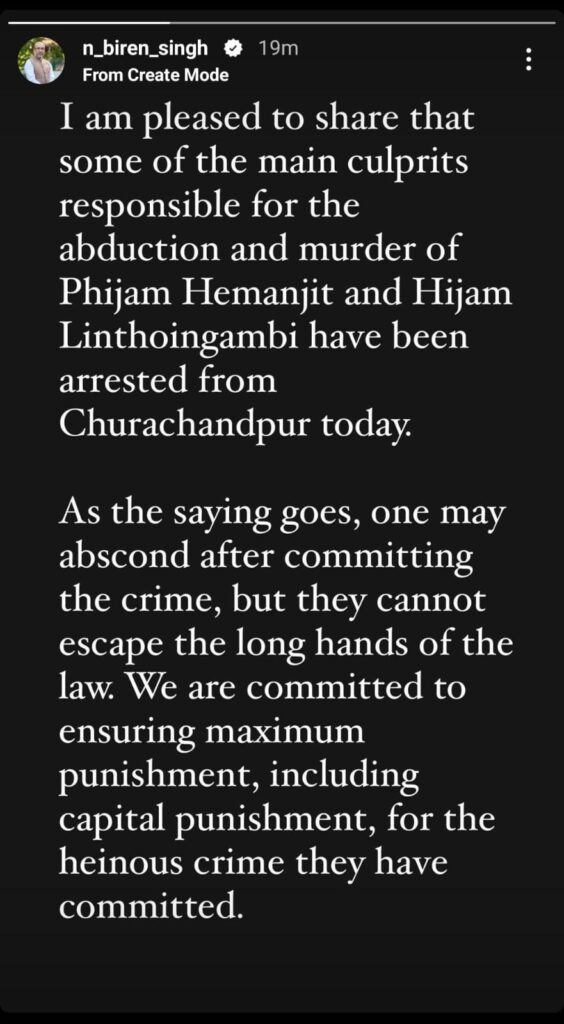 In a statement, the JSB emphasized the importance of the safety and well-being of all members of their community. They extended heartfelt solidarity to the families and friends of those unjustly taken, offering thoughts and prayers during this challenging time.
In response to the abduction and their concerns, the Joint Students' Body declared a 12-hour shutdown scheduled for October 2, 2023, from 6:00 AM to 6:00 PM. This shutdown is a protest against the unwarranted arrest of six individuals, including two minors, and against the discriminatory treatment they perceive their community is enduring in investigations conducted by central agencies.
The JSB appealed to all residents to abide by the shutdown as a means of demonstrating their collective resentment against the perceived discrimination and to demand justice for those affected by the recent events.
As the situation continues to develop, it remains a matter of utmost importance to address the concerns raised by various stakeholders and ensure the safety and well-being of the abducted individuals and the community at large.