Imphal, Manipur – September 28, 2023 – A disturbing incident has brought to light the alarming spread of Meitei ethnic violence beyond the borders of Manipur. This expansion of violence follows five months of state-sponsored ethnic strife, primarily targeting the minority Zo ethnic tribes within Manipur.
In a shocking incident, Tunkhansiam Paite, a Bank Manager at the PNB Natun Bazar Branch in Hailakandi, Cachar, Assam, was assaulted by two Meitei men. The attack on Mr. Paite underscores the growing concern that the Meitei atrocities, initially confined to Manipur, are now beginning to surface in other parts of India.
The incident occurred yesterday when Mr. Paite was making purchases at a local shop in the early evening. One of the Meitei men verbally abused him based on his identity, an act of discrimination that Mr. Paite chose to ignore. However, when Mr. Paite was returning home after work, he noticed the same Meitei man trailing behind his scooter.
As Mr. Paite halted his scooter after seeing someone waving by the roadside, the Meitei stalker stopped next to him, continuing to harass him. The situation escalated further when another Meitei man joined the confrontation. Both assailants physically attacked Mr. Paite, with one of them using a boulder to strike him on the back of his head.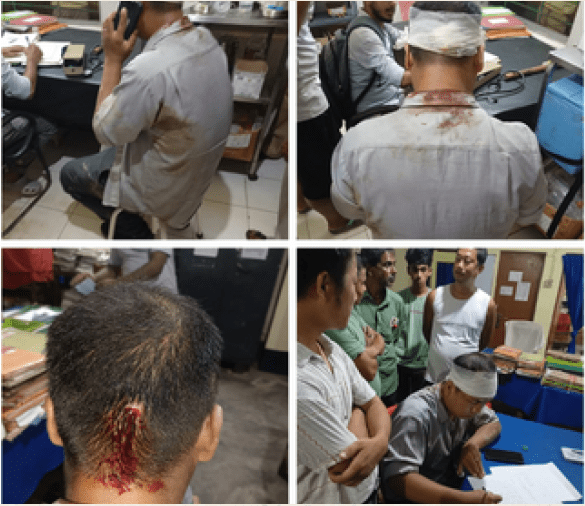 Following the attack, Mr. Paite required immediate medical treatment for his injuries. The Assam Police have taken swift action in apprehending the Meitei attackers, who will now face legal consequences for their involvement in exporting Meitei ethnic violence beyond the borders of Manipur.
This incident has raised significant concerns about the spreading influence of the ongoing ethnic violence, particularly involving Meitei individuals targeting members of the Zo community outside of Manipur. It underscores the urgency of addressing the root causes of ethnic strife and violence and emphasizes the need for collective efforts to restore peace and harmony in the region. The incident serves as a stark reminder that the repercussions of ethnic violence can extend far beyond the borders of the affected region, affecting innocent lives and communities elsewhere in the country.