Indian football has witnessed a meteoric rise in recent years, and at the forefront of this surge stands Lallianzuala Chhangte. The 26-year-old midfielder has not only emerged as a vital component of both the Indian national team and his club, Mumbai City FC, but he has also etched his name in history by being crowned the AIFF Men's Footballer of the Year for the 2022-23 season. This accolade reaffirms his place as one of the country's premier football talents.
Chhangte's journey to this prestigious honor has been marked by consistent dedication, determination, and an unrelenting pursuit of excellence. Born and raised in Mizoram, Chhangte's passion for football ignited at a young age. Over the years, he transformed his innate talent into a well-honed skillset, catching the attention of scouts and coaches.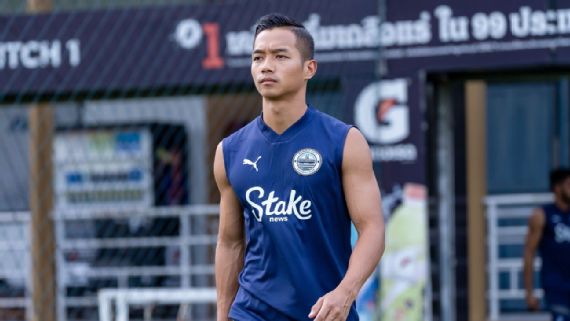 During the 2022-23 season, Chhangte's impact on both the national and club fronts was palpable. He was a pivotal force behind the Indian national team's successes, gracing the field in 12 appearances and contributing two goals and one assist. However, his achievements weren't limited to the international stage.
In the Indian Super League (ISL) 2022-23 season, Chhangte's prowess shone brightly. He claimed the position of the highest-scoring Indian player with 10 goals and six assists in 22 appearances, a feat that resonated strongly as he propelled Mumbai City FC to the semi-finals after dominating the league stage. Furthermore, he secured the eighth spot in the overall ISL scoring charts for the season.
Chhangte's significance to the team and his uncanny ability to influence the game's outcome did not go unnoticed. His contributions earned him the recognition he deserved as he became the second player from Mizoram to clinch the AIFF Men's Player of the Year award, following in the footsteps of Jeje Lalpekhlua, who claimed the title in 2016.
In a conversation with ESPN, Chhangte articulated his relentless commitment to the sport. "Even if you have had the best season of your life, there's always room for improvement, right? I will always try to see what I can improve and work on that," he stated. This drive for self-improvement and the pursuit of perfection has been a hallmark of Chhangte's journey.
His approach extends beyond the pitch. Chhangte's meticulous preparation for penalty shootouts highlights his dedication to mastering every aspect of the game. He described his regimen, saying, "After every session, I used to take 3-5 penalties every day. I used to ask the goalkeepers, 'when you saw me, what were you thinking?' They usually said, 'when I saw you putting the ball on the spot, you look at the place where you want to put the ball in.' So I have to put the ball exactly where I want to, to score."
Chhangte's rise hasn't come without its challenges. As opponents adapt their strategies to counter his influence, he recognizes the need to evolve and find solutions. Des Buckingham, Mumbai City FC's head coach, echoed this sentiment, emphasizing the importance of recognizing that Chhangte's exceptional performances are now the norm.
The AIFF Men's Footballer of the Year award solidifies Lallianzuala Chhangte's status as a football luminary in India. With each game, he continues to inspire a new generation of football enthusiasts, underscoring the power of talent, hard work, and the unwavering pursuit of excellence. As Chhangte's journey unfolds, fans can eagerly anticipate further chapters of brilliance and achievement on the field.
Lallianzuala Chhangte: The Mizo Flash Lighting Up Indian Football
Lallianzuala Chhangte, born on June 8, 1997, has carved his name as one of India's most promising football talents. A forward and winger renowned for his blistering pace and innate goal-scoring ability, Chhangte has become a household name in Indian football circles. His journey from the hills of Mizoram to the national stage is a testament to his unwavering dedication and extraordinary skillset.
Chhangte's early footballing years were marked by promise, catching the attention of scouts and coaches alike. His breakthrough arrived in 2014 when he joined DSK Shivajians's Liverpool International Football Academy. He quickly made his mark in the 2014-15 I-League U19 season, emerging as the top scorer with an impressive tally of 16 goals. This achievement led to his inclusion in India U19's squad for the 2015 Asia U18 Champions Trophy, further solidifying his reputation.
The following seasons showcased Chhangte's prowess as he continued to evolve as a player. Loaned to NorthEast United FC for the 2016 Indian Super League season, he marked his professional debut with an appearance against Mumbai City FC. Chhangte's journey led him back to DSK Shivajians for the 2016-17 I-League season, where he notched his debut goal and continued to leave an indelible mark.
Chhangte's entry into Delhi Dynamos (now Odisha FC) for the 2017–18 Indian Super League season marked another significant milestone. With a knack for scoring crucial goals, he made a lasting impact, tallying goals against formidable opponents like Bengaluru FC and Mumbai City FC. His relentless pursuit of excellence was recognized by Viking FK, a Norwegian club, leading him to undergo trials overseas. Despite challenges, Chhangte's determination remained steadfast, and he returned to India to pursue his passion.
Chennaiyin FC became Chhangte's next destination, where his performances propelled the team to the knockout stages of the 2019–20 Indian Super League season. A standout campaign saw him emerge as one of India's top goal scorers, a testament to his dedication and evolving skills.
Chhangte's international career mirrors his domestic success. Representing India in various championships, including the 2015 SAFF Championship and the 2018 SAFF Championship, he consistently displayed his ability to influence matches. Notably, he was included in the squad for the 2022 FIFA World Cup qualifiers, a testament to his prowess.
Off the field, Chhangte's humble roots and dedication to the game have not gone unnoticed. His incredible top speed of 35.80 km/h has earned him the moniker "Mizo Flash," showcasing his lightning-fast pace. With a diverse skill set encompassing positioning, dribbling, and an innate understanding of goal-scoring, Chhangte is a force to be reckoned with on the pitch.
As Chhangte's journey continues, fans and enthusiasts eagerly anticipate each stride he takes towards excellence. His unwavering commitment to improvement, coupled with his relentless pursuit of perfection, underscores his status as a beacon of hope and inspiration for aspiring footballers across India. With Chhangte's star continuing to rise, the Mizo Flash's story is bound to be etched in the annals of Indian football history.